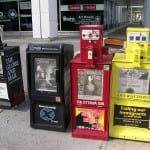 I spoke with Felicia Lembesis, the executive director for National Association of Professional Pet Sitters (NAPPS) on Monday.  We were discussing pet sitters and marketing and how it seems that many pet sitters have a fear or extreme dislike of marketing. Because a lot of pet sitters dislike it or fear it they end up not doing much of it and 'hope for success' instead of actively creating their business success.
In my own pet sitting business I ask clients how they heard about us and will often hear new clients say, "I see your company everywhere."
How do I get EVERYWHERE?
Here is just some of what I do to get my business "everywhere":
~ My website is search engine optimized (SEO) so I show up on the first or second line of most of the search engines. (Need help with this? I can do a complete SEO session with you.)
~ I drop off my attention-grabbing business cards on a consistent basis (every 1-2 months) to groomers, vets and pet stores.
~ I advertise in different pet publications that pet owners read.
~ I have signs on my car.
~ I look for advertising opportunities wherever–my feelers are open for possibilities to spread the word about my pet sitting company.
~ I have my website information on the bottom of my personal email so that friends are reminded (or alerted to) the fact that I own a pet sitting company.
Begin promoting your pet sitting business in a way that clients will soon be saying, "I see you EVERYWHERE!"