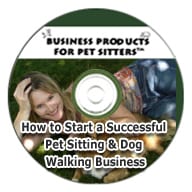 Is one of your goals for 2011 to start a pet sitting and dog walking business?
Are you thinking about starting a pet sitting or dog walking business but not sure how to get started in a way that will insure success?
Or are you in your first year of pet sitting and aren't generating the kind of profits you'd like to be generating?
If you are new to pet sitting and dog walking or in your first year of pet sitting, this recording is for YOU.
In this 60-minute recording you will learn the steps needed to create a firm foundation from which to launch and run a pet sitting business that thrives from day one. You will also receive a 12-point tips and tools worksheet for pet sitting business start up.
It's a myth that new business owners have to struggle, overwork and underearn in their first year of business.
Why reinvent the wheel? In this mp3 recording you will gain all the tips and tools you will need to get your business phone to ring! You will learn how to create a business that will be stress-free: from Day One. You will come away with being able to create a level of success that usually happens for most businesses after year three-all in your first year of business.
Click here for more information and to purchase the How to Start a Successful Pet Sitting and Dog Walking Business Recording.