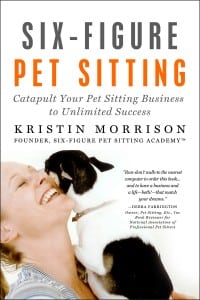 I'm one of those people that is a bit old-fashioned when it comes to books.
I know, I know, Kindle is the hottest rage and I will admit it would be nice not to be lugging 50 pounds of books around with me on this trip that I'm currently on.
But, for me, there is something about holding a book in my hands that makes me very, very happy.
Which makes me also happy to announce that, in addition my book being available in eBook format, Six-Figure Pet Sitting: Catapult Your Pet Sitting Business to Unlimited Success book is now available in printed format through Amazon.
Yay!
You can do the writing exercises in the book. You can fold down the corner of the pages that you want to come back to next time you pick up the book (I won't tell anyone).
And for those of you high tech pet sitters who want to read the Six-Figure Pet Sitting book on your smart phone and Kindle–it will be available for purchase in those formats soon too.
Enjoy and happy pet sitting!
–Kristin