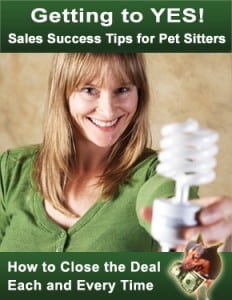 Want to learn to sell yourself/your service to your clients without sounding the like a pushy car sales(wom)an?
Because who wants pushy?
Certainly not your clients…
Yuck!
On Tuesday's teleclass you will learn how to turn 90-100% of those new client calls into ACTUAL clients.
Which will more than make up for the cost of Tuesday's call.
🙂
Here's more info:
Getting to Yes: Sales Success Tips for Pet Sitters Teleclass
Date: Tuesday, February 21, 2012
Time: 5:00pm PST / 8:00pm EST
How does class take place? Via a conference call line. Call-in instructions will be given upon signup.
How long is this teleclass? 60-75 minutes (30 minutes will be for Q & A from the audience)
How much: $20 (register by Feb 18) $30 (register on Feb 19 or later)
Class description: It can often be challenging to 'sell' our pet sitting service to our clients.
Many pet sitters provide a great service but when they try to talk about why a client should use their company they often get tongue-tied. Or they don't talk about the value of their pet sitting company with a potential client at all. Instead they simply quote rates and attempt to set up a client interview. These actions may land you the job. Maybe.
But taking 'maybe' actions isn't a powerful way to do business. Don't you want to close the deal most, if not all, of the time?
There are specific steps you can take to becoming a master at selling your service to clients. Believe it or not, selling can be easy, fun and natural when you know how to do it.
This teleclass will show you how to become an empowered seller of your pet sitting business.
Need more information? Click to find out more and to sign up for the Getting to YES: Sales Success Tips for Pet Sitters teleclass.