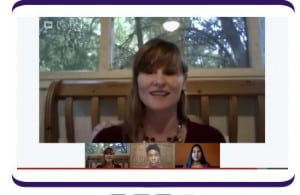 I was recently interviewed on a telesummit called The Feminine Business Model Telesummit.
It was my first time doing a video interview (with no editing!) and I had a lot of fun being on a speaker panel with another female business owner.
The topic I spoke on was "Turning your passion into profit". I think you will enjoy it (even if you are a guy I encourage you to check out this telesummit). 🙂
The Feminine Business Model Global Telesummit is a free series with video interviews of amazing women.
I'm so thrilled to be a featured speaker along with Ali Brown, Pamela Slim, Fabienne Frederickson, and Lynne Twist! This is rocket fuel for 2013, you don't want to miss this. Click here to sign up for the free telesummit: http://www.thefemininebusinessmodel.com/