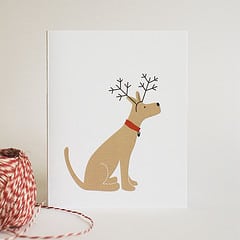 Below are 5 of the most important tips for holiday pet sitting and dog walking business success:
1) Charge and enforce a holiday fee. Many pet sitters are resistant to charging a holiday fee because they are afraid or embarrassed to ask for more money over the holidays. Get over your fear and DO IT. You (and your staff) are giving of your time to work during this special time of year and deserve to be compensated for it.
2) Have your holiday fee be over the holiday period, not just on the actual holiday days. My holiday period this year is Dec. 20-January 3. Clients are charged an additional $5 for visits and $10 per night during this entire period.
Charging a holiday fee for the entire holiday period can help your profit increase by $500-$1,500+ during the holiday season!
I recommend that half of that holiday fee goes to the sitter working that particular holiday job. The other half goes to the company. Obviously if you are the one doing the job(s) you would receive all of it.
Why should your company get a portion of that holiday fee if your staff are doing the holiday jobs? The bulk of December reservations are often (obviously) only around the holidays so often times pet sitting business owners will find they are super stressed this time of year but are not making any more money than they might make in say, April. Having you, the business owner, receive a portion of that holiday fee will help your business thrive financially during the holiday season.
3) Figure out exactly how many visits you want to take NOW so you can have a sane holiday. Holidays only come once a year, folks. It's up to you to decide now how you want to spend the days that are special to you.
If you want to spend Christmas day pet sitting from morning till evening with a brief holiday dinner in between jobs that is no problem. If that is what you want.
But if you don't want that, decide now and limit the number of visits that you are willing to take. Make a time plan of the special holiday days that matter to you (Christmas Eve/Christmas/New Years) and block off the time for you that is sacred. Be clear and firm that nothing can touch that time you have blocked off for yourself and your family, no matter how insistent a client might be that YOU are the only one who can care for her pets.
Sound easy? It's not. That's why deciding now and sticking to a holiday time plan will help you stand behind your no (or help you get a staff member to take an insistent client).
4) Have all of your holiday cards and gifts purchased and sent off by December 18. If you get all of the holiday preparation done by December 18 you will be able to focus on the business of pet sitting and be able to enjoy your own holiday period. Start today by outlining all that you need to do to be fully prepared for the holiday for both your business and personal life. Next write down the action steps that you need to do between now and December 18. Put the action steps in your calendar on the specific days that you intend to accomplish them.
Example:
December 7: Purchase holiday cards, purchase staff gift cards
December 8: Write holiday cards
December 10: Mail holiday cards
5) Buy yourself a holiday gift to honor all the hard work you've done in your business this year. Why is this a success tip? Because it is a way of honoring all the hard work you've done this year. When we honor ourselves, more money flows to us. Always.
This is an action step I give to my coaching clients this time of year and sometimes it is the hardest action step they can take! Allow yourself to give something to you. Pet sitting is a business of serving and taking care of others; explore a way to bring that focus to yourself in the form of a gift for you.
Here are some gifts that pet sitters have bought for themselves to honor the work they've done in their businesses: a six-pack of massage certificates to use at various times in 2010, a novel that a pet sitter has been wanting to read all year but hasn't made the time to read (part of her gift to herself was putting time in her time plan to read the book too!), a 2-day spa retreat with a girlfriend in January, a new car (!), a dinner out at a favorite restaurant.
Happy Holidays everyone!
For many more holiday success tips you can purchase the Riches and Relaxation for Holiday Pet Sitting Recording.