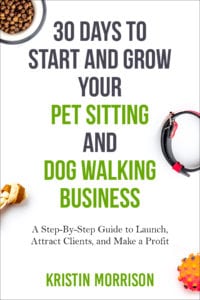 Hi pet sitters and dog walkers!
My new book is done and almost here! The paperback version of the book will be available on Amazon and the eBook will be available on my website in July 2018. You can pre-order the eBook now and you'll get it hot off the press in July!
It's over 300 pages of real life stories, step-by-step guidance and action steps to keep you on track.
Here's the link to find out more about the 30 Days To Start and Grow Your Pet Sitting and Dog Walking Business book.
Readers and different pet business organizations are giving it rave reviews and I think you'll like it too!
You can read the book reviews here.
I think you're going to like it. But don't just take my word for it – check out the reviews. 🙂