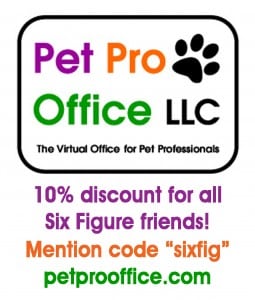 Here's a recent interview I conducted with Tiffany Manson, Founder and CEO of Pet Pro Office, LLC. Pet Pro Office, LLC is a company that assists pet business owners in administration tasks of all kinds.
Kristin: What got you interested in creating Pet Pro Office?
Tiffany: I began to get overwhelmed with administrative duties during a recent growth spurt in my business, and decided to find a virtual assistant. Once I started looking, though, I couldn't find anyone who understood the pet industry or knew how to speak to pet parents.
You have to have been exposed to the industry to know what questions to ask and what details are important – that's true for pet sitters, pet groomers, dog walkers, pet photographers, dog trainers and poop scoopers. There wasn't a pet industry-specific virtual assistant out there, so I decided if it didn't exist I'd create it.
Kristin: What services does your company provide?
Tiffany: We provide everything an office employee would – answering phones, screening & answering email, scheduling, new client set-up, invoicing, payroll, social media updates, client contact like newsletters & email blasts, an annual client satisfaction survey, client mailings, blogs, website updates, and paper-to-cloud integration. We've even set up a hiring campaign for a Chicago client for whom we screened the applicants, conducted phone interviews and scheduled a full day of interviews so our client could simply show up for the in-person interview and make the hiring decision.
Kristin: How does your service work?
Tiffany: Potential clients contact us and we schedule a phone or video meeting to discuss their service needs. Once the services have been determined, we determine a cost quote and work out a payment plan. The client gives us login information for their social media, voicemail and email accounts and we create a daily/weekly checklist and schedule for the work we'll be doing for that client – one we'll use to serve them every day. We maintain very close contact with the client, especially in the first weeks, until we get the regular routine and rhythm established. We send regular reports to the client to let them know exactly what is going on and what we've done.
Kristin: How much is the service and how does the pricing structure work?
Tiffany: The service can be as little as $100 a month for online file maintenance – to as much as $2,000 a month for a large company using every service we offer.  We do offer service sets, for instance the Administrative Package covers phone, email, invoicing, scheduling and payroll; the Social Media Package includes daily updates on several SM sights and a weekly blog post. We provide custom quotes for each client depending on what they need.
Kristin: What kind of pet business owner would benefit from using your service?
Tiffany: We typically market to pet sitters, dog walkers, groomers, trainers, pet photographers, and poop scoopers. Any pet business owner who doesn't have their own office staff will benefit from our services. We specialize in pet businesses because we are experienced in the industry and know how to communicate with pet parents. They are a different breed (pun intended). We understand how important their pets are and know what details are truly important when it comes to dealing with pets and their parents.
Kristin: Anything else you'd like to share?
Tiffany: We're excited to be fulfilling our dream of creating this business that caters to the pet industry and proud that the small businesses all over the country who make up the industry have continued to grow even in the recession. Last year they earned $51 billion dollars from pet parents in the U.S., and 2012 is projected to earn them even more!
We are also happy to report that we used Six Figure Pet Sitting Academy resources and book to help us set up this business.  It may say "pet sitting", but your wisdom can translate to any industry to help a dream come true!
Click the link to contact Pet Pro Office, LLC.