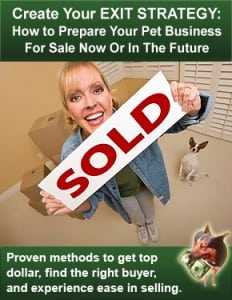 OH, I'm so excited!
We've got hundreds of pet business owners (pet sitters, dog walkers, pet groomers, and doggy day care owners) from around the WORLD signed up for this next Six-Figure Pet Sitting Academy webinar: "Create Your Exit Strategy: How to Prepare Your Pet Business For Sale".
I sold my 18-year-old pet sitting business in 2013 and I've created a whole webinar on the ins and outs of how to prepare your pet business for sale and how to find the right buyer.
Even if you just started your pet sitting or dog walking business or you don't want to sell for another 10 years you'll want to attend this webinar. In it I will go over what you can do now in order to create more ease and get top dollar later.
There are proven steps for selling your pet sitting and dog walking. This webinar will take you through the process so you'll have your eyes wide open when you are ready to sell (whether that be this year or ten years from now!)
THE WEBINAR IS OVER BUT YOU CAN NOW PURCHASE THE WEBINAR RECORDING HERE: How to Sell Your Pet Sitting and Dog Walking Business webinar.