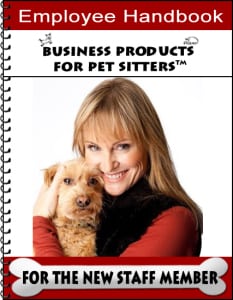 I've had a number of you pet sitters ask me for a pet sitting employee handbook and I've listened to you!
I get it. You are a busy pet sitting business owner and haven't had the time to create an employee handbook. Perhaps you've recently converted your ICs to employees. Or…perhaps you've needed a pet sitting employee handbook for a very long time and it has gone to the bottom of your to do list because it's such an ordeal to create one from scratch.  Whatever the reason, you just know you need one. Six-Figure Pet Sitting Academy is here to help!
If you think it's challenging to create a handbook and that perhaps creating an employee handbook from scratch is a BEAST to create, you are right.  (This one was a beast to create!)
Our pet sitting employee handbook is the perfect ready-made template. You can edit it as much as you like and insert your own pet sitting business, city and state information and offer it to your employees. Unlike most employee handbooks, this one is geared specifically for pet sitters and dog walkers.  It was created by two pet sitters and also HR team AND an employment lawyer.
Because each city and state differs in terms of employment law we recommend that with the purchase of any employee handbook or legal document that you purchase (whether it be from us or from somewhere else) that you have a local lawyer review it to see if there's anything that your city or state might require.
This employee handbook contains 54 pages of policies and procedures as well as a lot of necessary information to help your employees do their job in the best possible way and with the least hassle for you. It's for both dog walking and pet sitting employees and it comes in Word doc format so it's fully customizable. You can edit the handbook to your heart's content (though we predict you'll be very happy with how thorough this pet sitting employee handbook is!)
And guess what? You'll receive the handbook within 60 seconds of purchasing! How's that for easy?
Click to find out more and to purchase the Pet Sitting Employee Handbook now.