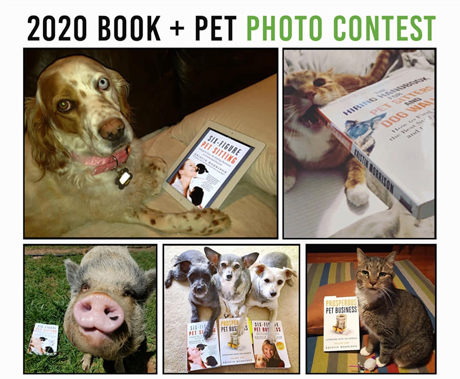 Hi pet business owners,
I need your help but don't worry, it's a fun thing. 🙂
I've had A LOT of wonderful photo submissions to the 2020 Book + Pet Photo Contest. I need your help to chose the top three photo winners!
Please click here to cast your vote and help me pick the winners.
Thanks in advance for your help!
Voting ends at midnight on Thursday, June 25 so cast your vote now.
Thanks much,

Kristin Morrison started her pet care company in the mid-90s and it grew to become one of the largest pet care companies in California. Kristin hired over 250 people in the course of running her business for 18 years and when she sold the business, she had 35 dog walkers and pet sitters and 4 managers on staff.
Kristin is also the host of the Prosperous Pet Business podcast which is found on iTunes, Spotify, Stitcher or wherever you listen to podcasts. You can also listen to it on the Prosperous Pet Business website.
Kristin is the author of five books: Six-Figure Pet Sitting, 30 Days to Start and Grow Your Pet Sitting and Dog Walking Business, The Hiring Handbook for Pet Sitters and Dog Walkers, Prosperous Pet Business and Six-Figure Pet Business. Her books are available in paperback on Amazon. The eBooks and audiobooks are on her website at: www.SixFigurePetBusinessAcademy.com
Connect on Social Media:
Facebook: https://www.facebook.com/SixFigurePetBusinessAcademy/
Join the Prosperous Pet Business Community Facebook Group: https://www.facebook.com/groups/prosperouspetbusiness/
Instagram: https://www.instagram.com/petbizcoach/
Twitter: https://twitter.com/petbizcoach
LinkedIn: https://www.linkedin.com/in/SixFigurePetSitting
Podcast: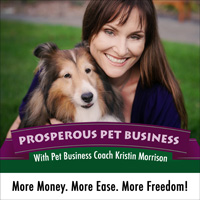 Prosperous Pet Business Podcast: https://prosperouspetbusiness.com/pet-business-podcast/