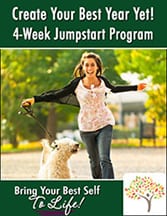 Ready to JUMPSTART your life…and your pet sitting business?
Has your pet business (and your life) left you feeling drained… exhausted… uninspired? Have you lost sight of what you wanted to accomplish with your business? Do you feel like there's no time or energy left to enjoy life outside of work?
When you change the way you live your life… your business naturally shifts as well. If you are ready to transform your life and your business, join me (and pet business owners just like you) on this amazing 4-week journey to fulfillment, balance, and renewed inspiration.
Click to find out more and to sign up now for the 4-Week Best Year Yet Jumpstart Program.
You'll get to experience your transformational journey with other pet business owners like you who ready to embrace their dreams and create thriving, fulfilled lives (and help you create yours).
This is a virtual program that you can attend on your computer and it's designed so YOU CAN PARTICIPATE FROM ANYWHERE IN THE WORLD. And you can even attend from your pet sitting, dog training or doggy day care office. Think you might need to miss a class? No problem! You can watch, listen and learn from the replay link you'll receive within 24 hours of each class date. I am committed to making it easy for you to create your best year yet!
Before you attend your first group session on October 22, you'll create your powerful 12-Month Best Year Yet plan using the Best Year Yet online goal-setting system. After creating your plan you'll be prepared to transform your visions and goals from dreams to reality.
Date: Wednesday, October 22, 2014 – Wednesday, November 12, 2014 (4 Wednesdays)
Time: 5:00pm PST / 8:00pm EST
How does class take place?Via webinar. Call-in instructions will be given upon signup.
How long is this class? 90 minutes
How much: $295 (register by Oct. 17) / $395 (register Oct. 18 or later)
Want more information? Click here to find out more and to sign up now for the 4-Week Best Year Yet Jumpstart Program.