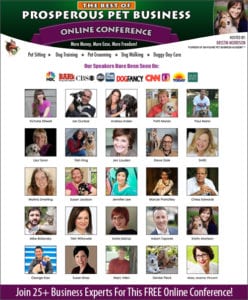 Are you signed up yet for the 2018 Prosperous Pet Business Online Conference?
This is a free online event that you can attend from wherever you are in the world. All are welcome!
Transform your pet business by attending this year's free online pet business conference. You'll gain access to expert tools and techniques and learn from industry experts. This year's conference contains 25 top experts who provide their insider knowledge in these strategy-packed conference segments.
This is an event that brings together pet sitters, dog walkers, dog trainers, pet groomers, dog daycare owners and many other pet-service providers from all over the world to receive fresh inspiration to grow their pet businesses in an all-new way – and those just thinking about starting a pet business will find helpful guidance, too!
This year's conference is different from all the rest because we've curated the top selection of speakers from the past four years — including more speakers than we've ever offered before at prior conferences.
These 25 experts who received the most rave reviews in years past will bring their wisdom and their "hot topic" pet business segments for this year's event.
The focus of the conference is business success – and it doesn't stop there!
We'll also be providing tips and tools for your body, mind, and spirit so you can completely transform your business and your life at the same time. Prepare to be amazed.
Need more information and want to sign up now? Click here to find out more and to sign up now for the 2018 Prosperous Pet Business Online Conference.

FAQ:
Date:
Where is the conference located? It's a virtual event so it's located in your home, car or office – wherever you want to view the conference speakers!
How long has this pet business conference been happening? This will be our fifth consecutive year of offering this free online pet business conference!
Okay, so I realize I can watch it from my home or office but how do I actually attend the conference? And will I be able to access the speakers from wherever I am in the world? Yes, because it's a virtual, online conference, so you can attend from wherever you are in the world. When you sign up for the conference, you'll receive daily conference videos via email from us between the two-week conference period (September 12 – 25, 2018). Each daily conference email from us contains 1-3 conference speakers. There are 25 conference speakers and a total of 28 videos that you'll receive over a period of two weeks.
What if I can't make some (or all) of the conference dates? You'll have access to each day's video selection for a total of 24 hours to watch the daily videos that you receive from us. If you need or want unlimited, lifetime access to the videos, you can purchase the conference video package for a low price.
How much is the conference? It's free for 24 hour viewing to each daily speaker selection. But if you want unlimited, lifetime viewing so you can watch whenever you want in the future, you can purchase the speaker package for a low price.
Sounds great! How do I sign up? Signing up is easy! Just click this link to sign up now.