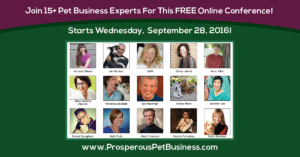 Pet sitters and dog walkers: The 2016 Pet Sitting Conference is starting on September 28, 2016!
The Prosperous Pet Business Online Conference is a FREE pet sitting conference and there will be great speakers including Ian Dunbar, Victoria Stilwell, and Beth Stultz (from Pet Sitters International).
Watch, listen and learn from your home office or listen while you are out on a dog walking job or driving to a pet sitting client.
Click to find out more and to sign up for the pet sitting conference.