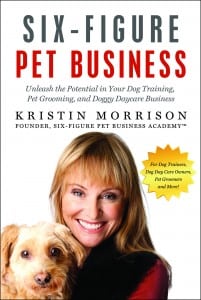 Ever since I published my book "Six-Figure Pet Sitting", I've been asked by various dog trainers, dog and cat groomers, and doggie day care owners about when I would be writing a book for them to create six-figure success.
Ask and you shall receive!
I've recently completed my book that is especially for those who train dogs, groom pets, and run a doggie day care.
It's called: Six-Figure Pet Business: Unleash the Potential in Your Dog Training, Pet Grooming, and Doggy Daycare Business.
I'm happy to say, it's getting rave reviews from various dog training and pet grooming associations.
Here is one of the most recent reviews for Six-Figure Pet Business from Martin Deeley, Executive Director of International Association of Canine Professionals (IACP):
"As an ex-management lecturer and business consultant I can tell you Six-Figure Pet Business is a first class piece of advice/book for all wishing to start in the pet business.
What I enjoyed about Six-Figure Pet Business was it was simple to understand and broke down all the different barriers to starting and running your own pet business in a way that has you saying – "I can do that!"
It was written in a way that not only explained clearly what to do but also was also enjoyable to read and learn from. The important points at the end of each chapter assists in reinforcing what is read and really pinches home what needs to be done. Even though I have been in the pet business for many years there was so much in this book that got me thinking – 'yup, I must start doing that' or 'I must start doing that again'.
For those wanting to start their own <dog training, dog grooming, doggy day care> business this is essential reading. For those already in business it is a reminder of what we should still be doing or should do, to build success.
I will definitely be recommending Six-Figure Pet Business to all wishing to start their own pet business and those already in it."
If you are a dog trainer, dog and cat groomer, or doggie day care owner who would like to purchase Six-Figure Pet Business in eBook or printed format, you can find the book for sale on my newest website for those in the pet business industry.