Let me ask you something…
Do you feel cranky and irritable when your business phone rings?
Has your car become your premier dining spot in between pet sitting, dog training and dog walking jobs?
Do you find yourself wanting to walk away from your business because you've fallen out of love with it?
Don't worry, there's hope! (And just in time for the holidays. Whew!)
I experienced burnout in my own pet business a few years ago and it wasn't pretty. I nearly threw in the towel in my business. But thankfully I didn't.
Instead I made some important changes in the way I ran my business and after only one year of making those changes I made more money, worked less and yes, fell in love with my business again. I know, I know… it sounds like a Hollywood movie but it's true. I've helped lots of pet business owners do the same. I can help you too.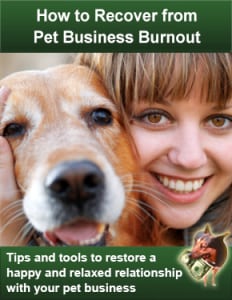 If you are ready to recover from business burnout and to create a healthy relationship with your business, so that your pet business works for you instead of you working for your business, you'll want to attend the upcoming webinar.
Oh, and if you can't make the webinar date, no problem!
Simply sign up now and let me know you need the replay link and I'll get it to you the day after the webinar. How's that for easy? 🙂
PLEASE NOTE: THE WEBINAR IS NOW OVER BUT GOOD NEWS! YOU CAN CLICK HERE NOW TO PURCHASE THE HOW TO RECOVER FROM PET SITTING BURNOUT WEBINAR REPLAY.