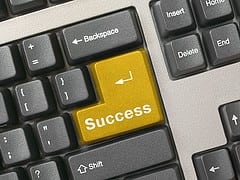 Creating pet sitting and dog walking business success can be easy.
Really.
Here are 5 simple steps you can take TODAY to create more success in your pet sitting and dog walking business:
1) Begin to accumulate business savings. Even the act of starting with $10/month is progress. Your business savings account will help get you through the lean times, especially when you are first starting out.
2) Create an action plan to ensure that your pet sitting business bookkeeping records are clean, orderly and accurate. Get accounting help if and when you need it. Pay someone to help you learn Quicken or Quickbooks. Knowing how much you make each month will help you set financial goals which will keep you focused and intentional in your business actions.
3) Develop a yearly business plan and create goals and visions for yourself and your business. Review it quarterly and adjust as needed. Having a map will help you get to where you want to go in your business.
4) Budget your time realistically and focus on income-producing activities. Get clear on how many minutes it takes to actually takes to drive to your dog walking/pet sitting jobs. This will help you get clarity about how many clients you can take in a given day and how much time you spend driving. Setting a timer for those business tasks that are challenging can help keep you on track. Focusing your daily actions on income-producing activities such as marketing and answering the phone directly will cause your profits to rise.
5) Let go of difficult-to-work-with clients and staff members. Difficult staff and clients can eat up as much as 95% of our energy which leaves only 5% left for the majority of our (easy) clients and staff. If you notice your thoughts consumed by a particular client or staff member then it might be time to let them go. Talk it over with someone whose opinion you value and once you get clarity about how challenging they are, be willing to let them go sooner rather than later.
Want more tips on how to create success in your pet sitting and dog walking business? Purchase the Secrets for Pet Sitting Business Success Recording now.