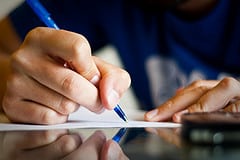 Recently I was in a yoga class and the teacher said to our class: "Even though you might think you can't do a pose, TRY. Don't just assume you can't do it. Attempt it. Find out."
So many pet sitting business owners run their businesses from the place of NO.
No, I CAN'T DO IT.
No, I'VE NEVER DONE THAT BEFORE.
No, I'M AFRAID.
It takes a lot of courage to feel the NO and turn it into a YES. To run your business from outside-the-box. Which might be very different from how you think you should run your pet sitting business or how your competitors are running their pet sitting businesses.
As I'm traveling I'm even more aware than I was back at home of how we create our own reality.
I'm not getting woo-woo on you here.
What I'm talking about is that most people put limits on what they can and can't do in their business and their life which ends up becoming their limited reality.
Where are you putting limits on your pet sitting and dog walking business?
Here are some common areas that pet sitters put limits on their businesses:
1) Your Schedule: You don't like doing early morning or late night visits and yet still you do them.
2) Hiring: You are afraid to hire pet sitting and dog walkers so you don't. Or you need to hire more staff yet you keep putting it off even though you are getting more and more stressed by having to do the work yourself.
3) Your Income: You have a mental 'cap' on what you think you can make in your pet sitting business each month. You say to yourself, "Oh, I can't make more than $________/month" which becomes a self-imposed glass ceiling. You don't imagine or believe you can make more than you've currently made and thus live out that reality from month-to-month.
4) Your vacation: You haven't had a vacation in years and you feel burned out. You are afraid of leaving your pet sitting business. You don't know what to do with your business when you go away and don't investigate options.
5) Business Duties: You really don't like (or aren't good at) a certain aspect of your pet sitting business and yet still you do it because you feel you 'have' to. You don't allow yourself to think creatively or ask for help in thinking creatively for how to delegate specific tasks or jobs that you really don't enjoy.
Guess what?
YOU are the author of your pet sitting business. You get to make up the rules for how you run your business and what jobs you do or don't do.
So many pet sitters that I work with forget this. They let themselves be swept away by the whims of clients or their own fear of doing something differently than they (or another pet sitter) has done before.
It's the halfway point through the year here, folks: June 2011.
A perfect time to honestly access what works and doesn't work with the way you are currently running your business.
You really are the only one who creates the stoppers in your business and your life. Not your clients. Not your family. Not your staff.
YOU.
And you can also take that pen and start self-authoring your pet sitting business!
Try this bit of self coaching:
Get a piece of paper and a pen. Set a timer for 15 minutes. For one minute focus on an area that is clearly not working in your business or is causing you discomfort or unhappiness.
Then, with the remaining time, write down all the possible solutions that come to your mind.
Don't censor.
Don't edit.
Don't spell check!
Simply write fast, without thinking, for 14 minutes.
You may be amazed at what may emerge.