Hey pet sitters and dog walkers:
Yesterday I went out to my mailbox and the Dogster magazine was in there. When I opened the magazine, I saw this: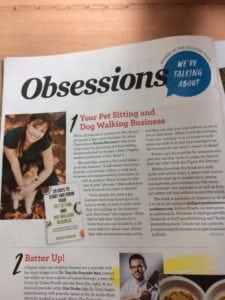 This is especially exciting because this book was an obsession in my head for over a year and then it took a year to write it! Happy to see it's one of Dogster's obsessions too.
You can get the paperback book wherever you buy your books online or click to get the 30 Days to Start and Grow Your Pet Sitting and Dog Walking eBook delivered to you immediately from the Six-Figure Pet Sitting Academy website. Happy reading!