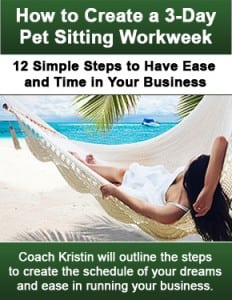 This teleclass is back by popular demand!
Date: Tuesday, September 27, 2011
Time: 5:00pm PST / 8:00pm EST
How does class take place? Via a conference call line. Call-in instructions will be given upon signup.
How long is this teleclass? 60-75 minutes (30 minutes will be for Q & A from the audience)
How much: $30 (register by September 24) $40 (register on September 25 or later)
Class description: Whether you want to take one day off a week, have weekends off, or create a 3-day workweek like Kristin has created in her pet sitting business, it's up to you!
In this class, Kristin will outline the step-by-step method necessary to create time off.
In less than one year, Kristin went from working 12-14 hours a day, 7 days a week to working 3 days a week!
If you have an established business and responsible staff members that you trust, you can too!
This teleclass will truly change your life by profoundly transforming the way you relate to your work schedule! You will come away excited and ready to create a work schedule that is beyond your wildest dreams (while being firmly rooted in reality).
Click here to find out more and to sign up for the How to Create a 3-Day Pet Sitting Workweek teleclass.