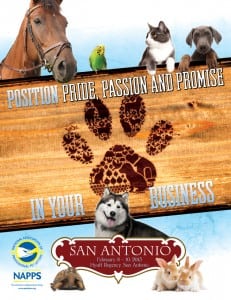 If you are a part of my email newsletter list or one of my Facebook friends, then you probably got my recent survey requesting your suggested topic that you'd like me to speak on at the National Association of Professional Pet Sitters (NAPPS) conference in 2013.
Nearly 200 of you pet sitters voted on your favorite topic. (Thank you, thank you!)
The top pick was: How to Hire the Perfect Pet Sitters and Dog Walkers so that's what I'll be speaking on. 🙂
I'm excited you picked that topic because it's one that I'm passionate about. Hiring my own perfect people in my business has enabled me to have more and more freedom and a very rich life in addition to running my wonderful businesses.
I'd love to know if you are coming to the NAPPS conference in San Antonio, Texas in February 2013. Shoot me an email if you are!
And if you want to find out more or want to register for the conference, here's the link: National Association of Professional Pet Sitters 2013 Conference.