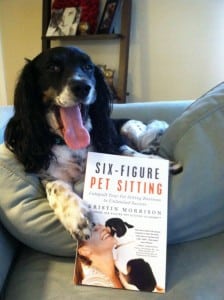 2013 First Place Photo Winner Submitted by Cindy Chain Johnson of Bed and Biscuit Pet Care in San Antonio, Texas
The 2nd Annual Six-Figure Pet Sitting Book Photo Contest is back! 🙂
Here's how it works (it's easy):
1. Take a picture of your pet(s) with either on of the books Six-Figure Pet Sitting or Six-Figure Pet Business
2. Post your picture on our Six-Figure Pet Sitting Academy Facebook page or email it to me.
We'll be picking the winners in June so submit your photo between now and May 31, 2014.