I'm so excited!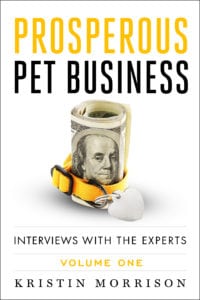 My newest book Prosperous Pet Business will be released in July 2016.
I spent over a month working with the cover designers to design the right cover for the book and I love what we created together.      —>
And even more importantly, I love what's inside my newest book and I think you will too.
Prosperous Pet Business: Interviews with the Experts – Volume One is based on the conference interviews I did with pet business experts and mind/body/spirit teachers in order to help you create the most successful pet business possible.
The book has already received rave reviews from pet business owners who had the chance to preview it before it goes to print. The print version will be available on Amazon and the eBook version will be available on the Six-Figure Pet Business Academy website in July 2016.
For a limited time only (until June 15, 2016), you can pre-order the eBook and receive $5 off. When you pre-order, you'll be among the first to receive the eBook when it is released in July 2016.
Here's the link to pre-order Prosperous Pet Business and read the reviews. 
To your success,