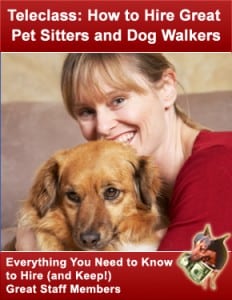 I had an epiphany a few years ago when I realized how similar hiring is to dating.
You have to be clear what you want so that you can recognize that person when they show up.
It's important to notice yellow and red flags.
Clear communication is crucial.
You both have to want the same thing (each other).
Here's the thing: Anyone can hire someone.
But just like dating to meet the right person, hiring really great people requires skill. The good news? This hiring skill can be taught.
I've honed my hiring mojo through having hired over 250 pet sitters since I first started hiring pet sitters and dog walkers in 1997. I've seen what works and what doesn't when it comes to hiring pet sitters and dog walkers.
I've successfully taught over 1,500 pet sitters from across the country how to hire really great people.
I'll teach you too.
I'm leading a "How to Hire Great Pet Sitters and Dog Walkers" webinar on September 24 and will be sharing powerful tips and tools that I've used to find, hire and keep my own wonderful staff members.
If you can't make the webinar, no problem. Simply sign up and let me know you need the replay link and I'll get it to you by September 25.
Please note: This webinar is now over but you can buy the webinar recording and watch it within 60 seconds upon ordering it!